The Springtime theme rolls on as we take a look at
So Breezy
today.
So Breezy
is exactly as the name implies .. breezy! In this set are two sentiments handwritten by me. I've always prided myself in my penmanship, so I hope you'll like it too! Also a neat little thing in this set is the loopy heart line -- I drew this line for my friend back in 2010 when we designed her destination wedding invitation. We used the loopy heart line to draw an airplane's path from NY to Aruba. I'm so happy to see it in stamp form!
So Breezy will be available for purchase on February 15th.
So Breezy comes in a 4x6 clear acetate sheet and will retail for $15.00.
So Breezy contains a total of 14 stamps: 6 sentiment stamps and 8 images. The girl image measures 2-1/16" in height; the boy image measures 1-15/16" in height; HAPPINESS measures 2-15/16" wide.
This card is pretty much Stamping 101. Stamp everything! Then dress it up!
SUNSHINE was colored with honey and yellow Copic markers. The butterfly, same, but I added a light green to give it some pop. There goes that loopy heart line. And doesn't it really look breezy with the wind against the little girl? I cut the butterfly out and popped it up with some 3d foam adhesive.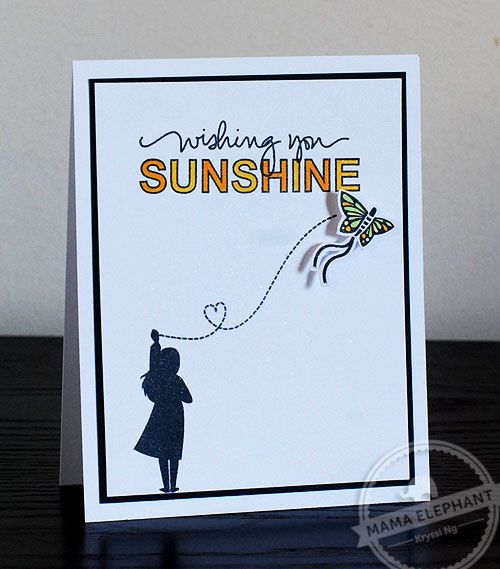 It's a little hard to tell, but this whole card has a light shimmer to it. It's really quite pretty in person!