Welcome back, friends! So happy that you're liking what you see so far!
Today's focus is on Bling, a fun little sentiment set that goes with Central Park. Bling is exactly as its name implies, bright, sparkly, blingy -- it's the perfect fit for the bright lights of the city skyline.
Bling will be available for purchase on April 15th.
Bling comes in a 4x6 clear acetate sheet and will retail for $15.00.
Bling contains a total of 13 stamps: 8 sentiment stamps and 5 images. Approximate measurements: Oh Yea Baby 3/4" x 3/4" My World is Brighter 2-3/4" x 1-1/20" Speech Bubble 1" x 1-2/5" Tall Building 1/2" x 1-3/10".
For my first card I went a little artsy. I first stamped the buildings included in this set and the sentiment.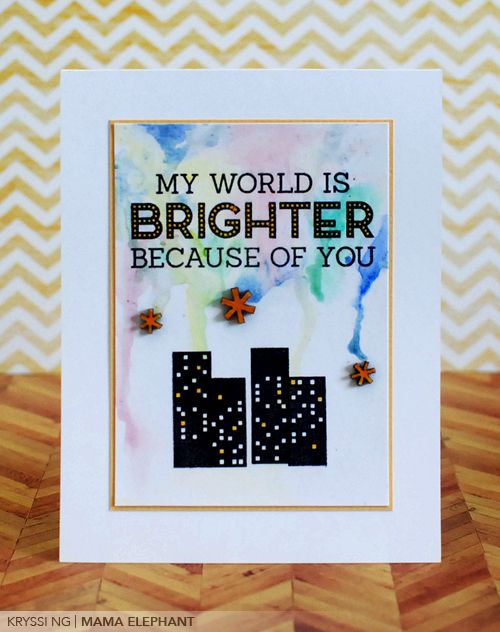 I knew I wanted to do a bit of watercoloring but my past experience with watercolor + cardstock is not great. I hate that it warps and eats into the cardstock. I finally found a solution to that problem! Modpodge. Yes, Modpodge!!! I coat a thin layer of Modpodge over my cardstock and set aside to dry. When it's dry, I then watercolor as usual without worrying about it eating into the cardstock. The Modpodge acts as a barrier between the paper and watercolors. Give it a try and let me know what you think!
My next card is inspired by the skyline of New York City at night and the memorial lights for World Trade Center. This view is just breath taking.
Photo credit: Andrew Miller/The Jersey Journal
Here's how I translated it into a card. So simple and so New York. A bit of masking can do wonderful things!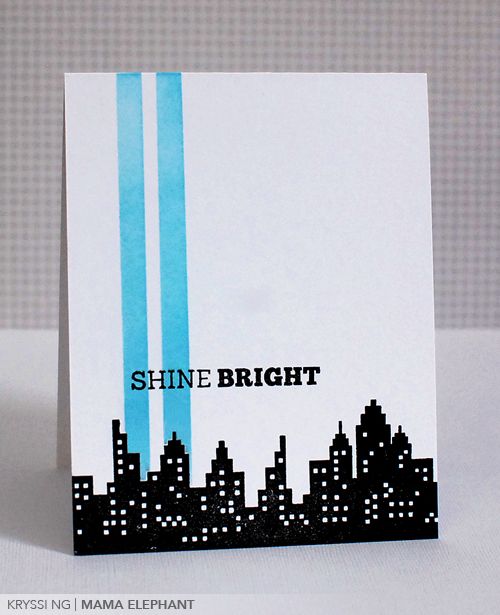 Thanks for coming by today! I have to tell you, the last two days have been especially fun and meaningful to me. I love being able to share a part of our city with you!