We have a very special guest joining us today, it is none other than the undeniably creative and talented
Michelle Wooderson
! With Michelle, there is absolutely no shortage of inspiration in every detail of her creations. She makes me look at my stamps in a completely differently light. I am thrilled to have Michelle here today and show you what she's done with our stamps. Her handmade projects are truly a labor of love!
I was born + raised in a small Kansas town. I'm your typical farmer's daughter and although I lived in a big city for 10 years, I found my way back home to the country where I now reside. My family now consists of my high school sweetheart husband Eric and my two teenage daughters. The "reds" I call them, Josey and Jordan. My crafting ventures consists of scrapbooking (mainly Project Life), card making and creating gifts and fun packaging for family and friends. I also like to incorporate some of my other hobbies into my crafting which include vegetable gardening with lots of canned veggies and jams, sewing and quilting, and junking adventures to search for just the right vintage find. I like my projects to have a homespun feel to them with lots of little added embellishments. I believe that handmade is always best.
I'm very excited to be posting for Mama Elephant today. Their fresh and fun designs are just delightful to work with + the quality of the stamps is very good. My projects today use the
On Target
stamp set. I used the stamps for both a feminine card and a masculine card.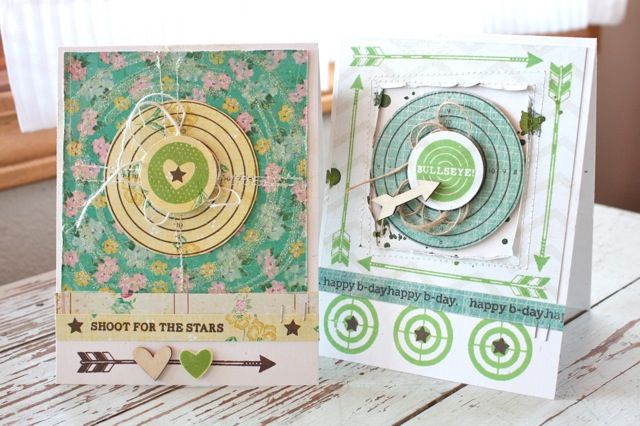 For the masculine card, I created a birthday card for my husband's upcoming celebration this month. We are a big family of hunters so I know this stamp set will be put to good use over and over. We recently got some targets to practice shooting some new bows so this bulls eye target is right on spot for my husband. To create the focal point, I stitched a square and then cut out the center portion. I splattered the inside space with ink then added my paper pieced bulls eye accent. I scuffed up the cut edges for some texture and dimension.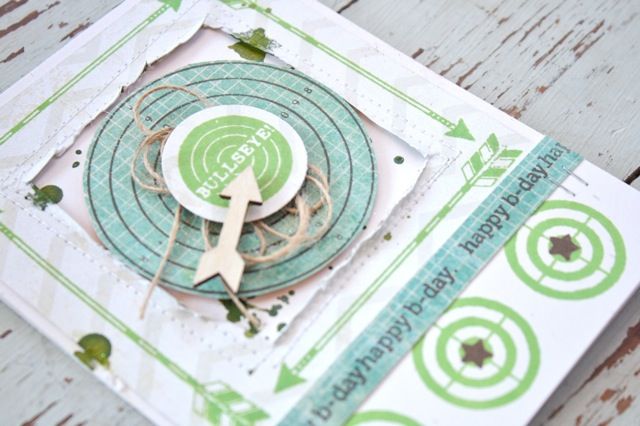 For the feminine card, I created a good luck card for my daughter Josey. Her high school basketball team is playing in the championship game of Sub State basketball so I thought this card would be fun to tuck into her gym bag. For the focal point, I paper pieced the bulls eye and then messy stitched over the circles. I drew squiggly circles around the target with my glue pen then added some "oh so sparkly in real life" glitter.