It's time for us to pick the winners! Holy moly, so many fantastic entries, so much creativity, it agonizes us to pick just two winners! I'm so glad we're going with two this time, but it's still not an easy decision. Nope, not by far!
Without further interruptions, our winners and faves that made our eyes bulge and our hearts go pitter patter! :)


Our first pick is
Elena Roussakis
! Wow, how can I not pick this? Sagi girl looks like she's floating in the clouds thanks to the beautiful light distressing Elena created. I love that she combined several sets to create this heavenly card!
Our second winner is
Pamela Ho
! If you've been following Pamela's blog, you'll know that she has been working our Basic Borders stamp set! She is after my heart by replicating a Hong Kong night scene in this card with the plaid pattern. I think it's amazing!
Congratulations, Elena and Pamela! Your cards are absolutely stunning! You will both receive two stamp sets from an upcoming release and please grab the winner badge for your blog!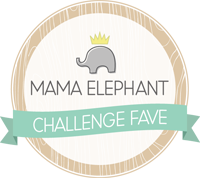 I also want to give an extra shout out to some of my faves!
Jennifer Grace
created this fun layout from the sketch using our free digital stamps! I love that.
Lindsay Amrhein
wowed us with this ombre-riffic Trifecta card!
Last but not least, I just had to highlight this fantastic card by
Lisa
! Look at all that gradient goodness!
Big thanks to everyone again for playing along!
WHO'S READY FOR TOMORROW'S RELEASE??!?!??!