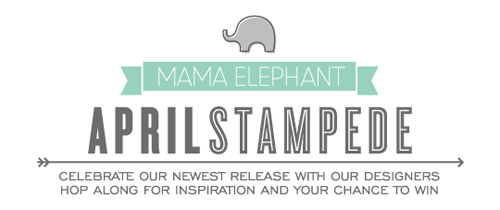 Welcome to the Mama Elephant April Design Team blog hop! Our April release is now live and available for purchase in the store: www.mamaelephant.com.
This month we are joined by THREE fabulous guest designers, Lisa Spangler, Elena Roussakis, and Pamela Ho! I'm sure they will knock your socks off with their creativity!
To celebrate the new release, Mama Elephant is giving away 3 gift certificates worth $20.00 each to 3 lucky people! Winners will be chosen at random from the collective blogs in the Stampede. Winners will be announced on the blog on Friday, April 19th.
Here's how to qualify to win (leave a separate comment for each):
1. Leave a comment on this blog post (what's your favorite set?)
2. Become a follower of our blog
3. Like/share us on Facebook:
http://facebook.com/mamaelephant
4. Follow/tweet about us on Twitter:
http://twitter.com/heymamaelephant
Here's the blog hop list!
Lisa Spangler (guest designer!)
http://sideoatsandscribbles.wumple.com/
Mariana Grigsby
http://marianagrigsby.wordpress.com/
Lea Lawson
http://leascupcakesandsunshine.blogspot.com/
Alice Wertz
http://aliceslittlewonderland.blogspot.com/
Elena Roussakis (guest designer!)
http://justmeprints.blogspot.ca/
Geralyn Sy
http://inacreativebubble.blogspot.com/
Savannah O'Gwynn
http://savannahland2.blogspot.com/
Cheiron Brandon
http://www.cheironbrandon.typepad.com/
Pamela Ho (guest designer!)
http://fishydesign.wordpress.com/
Jenn Biederman
http://createdbyjb.typepad.com/
Pearl Lui
http://kraftypearl.blogspot.com
/
JJ Bolton
http://www.jjbolton.org
I whipped up something really fun and quick using a variety of our stamps.
And here's the full reveal of our April line up!