When I squeal, you squeal too, okay?
Lisa Spangler
is in the house!
*Squeeeeeeeeeeeeeeeeeeeeal!!!*
I have
the
biggest fan girl crafty crush on Lisa. The love affair started when I was just a beginner stamper that curiously participated in the Hero flickr group (I still got mad love for Hero Arts.) She had selected me as her pick for the Win-a-Day contest and gave me a huge boost in confidence and really propelled me headfirst into this stamping world. I'm really not sure if I'd be here today if it weren't for that experience. She is, in short, my stamping idol and I just could not be happier that she is here today to share her creations using ME stamps, MY stamps! Not only is Lisa so, so nice, but she is one of the most creative stampers out there! Her cards are always so fun and vibrant!
To see more, be sure to visit her blog
HERE
!
* * * * * * * * * *
Hi there! It's
Lisa Spangler
here, and it was a huge honor when Kryssi asked me to be an April guest designer! I couldn't wait to see the stamps for the release, and when they arrived the first thing I just HAD to stamp was this cute skunk from the
Tree Friends
set. Love him so much!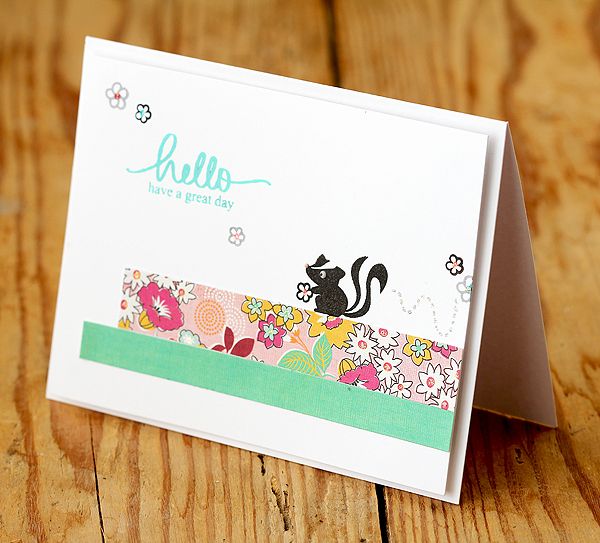 I had a little trick I wanted to try -- adding white enamel accents for his eyes and nose and coloring them with Copics. Happy to say that it worked great! I colored his nose with a light pink, and added a black pupil in his eye with a Copic multiliner.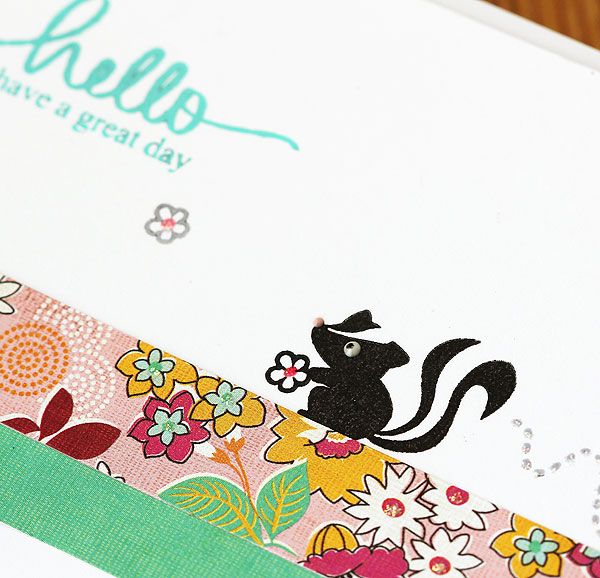 Another thing I played around with on this card was mixing stamping with black and gray (Hero Arts soft granite) ink. I think they give a neato contrast. So I stamped some of the flowers in soft granite and some in black.
Then for my finishing touch I couldn't resist adding a little glitter! I added some to all the flower centers -- even the patterned paper -- and the jumping trail too. :)
For my second card I wanted to play with the buildings in the
Bling
set, but in a different way! I thought they would make a fun pattern, kinda like washi tape. So I went to town stamping them in neon pink, orange soda, butterbar, pale tomato, tide pool, and soft granite.
Then I wanted to play around with shades of gray again, so this time I added a charcoal strip and stamped the Oh. Em. Gee message from
Good Times
in charcoal too. This just has to be one of my favorite messages of all time!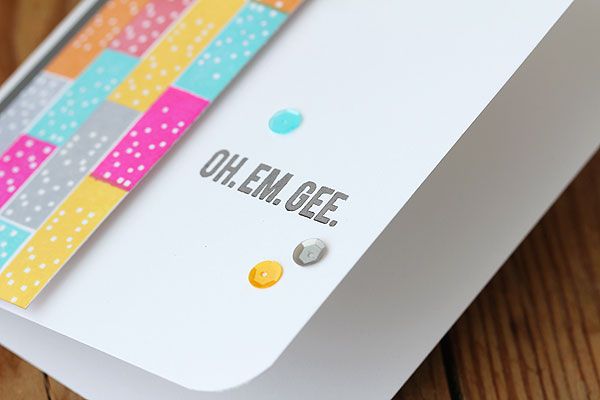 I added a few sequins to the card, tucking some under the stamped piece and some on top. Love doing that.
Thanks so much again to Kryssi for having me -- can't wait to share my other projects with you!
xx, Lisa