Today's First look is Soiree. It's a stamp set that I've been dreaming of for awhile now and I'm so, so happy to finally bring it to life. Last year, two of the most important people in my life had big life events, my bestie and my little sister.
The first picture is the bridal shower I organized for my bestie. It took months and months of tedious, meticulous planning with the entire bridal party but I could not be any happier with the results, which is completely Pinterest-worthy! Here's a shot of the main table completely set up.
For more pics, I blogged about it
HERE
.
This next shot is the main cake topper my sister had me create for her main wedding cake. Cute and simple.
What do they both have in common? Banner cake toppers! I love how whimsical and sweet the banners add to a simple cake. I always ask for a simple cake for parties that I plan. It's kinda like having a blank canvas to work with and it won't compete with your little touches.
So, that's the basic inspiration behind Soiree. I hope you thoroughly love it as much as I do! Now onto the details!
Soiree will be available for purchase on May 15th.
Soiree comes in a 4x6 clear acetate sheet and will retail for $15.00.
Soiree contains 33 stamps - Numbers 0-9, 5 sentiments, 18 images. Approximate measurements: Top cake 1-5/16" x 11/16"; Bottom cake 1-1/2" x 11/16"; Banner 3-7/8" x 3/4"
In my first card, I wanted to create a black + gold card with some simple diagonal stripes created with Basic Borders. I stamped the cake separately and popped them up with 3d foam to give it a bit of dimension. The sentiment acted as the cake plate/tray. I colored the banner with a gold gel pen. Some gold sequins finished it off.
With this card I created a super girly card. Instead of the cake, I used the sentiment Make a Wish to create a pink ombre cake. The sides of the card base were stamped with a light grey ink using stripes from Basic Borders as well.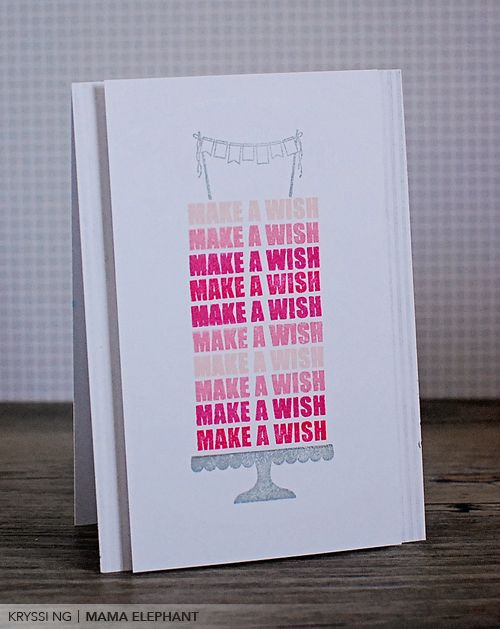 I love simple cards with big impacts, what about you?
That's all from me, I hope you enjoyed all my projects the last few days. Thank you for all the wonderful comments, you really know how to make a girl beam! :)

Yay, Stampede tomorrow! I am so ready!