Welcome back! I'm especially giddy about today's First Look of Filigree. When we first started Mama Elephant over a year ago, I had minimal knowledge of designing in the digital world. I knew my way around Photoshop, but that's about it. I was overflowing with ideas and most of the time, I passed on the difficult images to Angela to tackle since she's the pro.
I'm so pleased to unveil Filigree to you. I've always wanted a doily design but always felt my skills were lacking. Well, they say practice makes perfect... :)
Filigree is, in my opinion, is a beautiful balance of complexity and delicateness. We've taken it a step further and made it a two-stepper kind of design. You can keep the inside of the doily hollow for the sentiments, or complete it in the same color or use a different color for added interest. filigree also comes with a matching lacey border! So many possibilities packed into one set!
Filigree will be available for purchase on May 15th.
Filigree comes in a 4x6 clear acetate sheet and will retail for $15.00.
Filigree contains 10 stamps - 7 sentiment stamps and 3 images. Approximate measurements: Large doily 3-1/2"; Lace border 3-3/4" x 11/16"
I had purchased distress markers some time ago and absolutely hated it. Hated it. Then I discovered I was doing it all wrong. I found it easier when I was not using the markers directly on my stamped image. Instead, use a piece of acetate or a craft sheet and pick up the colors using a waterbrush. You can control the intensity of the color by watering it down. It has made a huge difference and now I love them! :) There are lots of YouTube instructional videos on how to use them if you're interested in learning more.
So, here's my first card after I learned how to use them properly. I stamped the doily twice and stamped the inner in the same color. I wanted a full, complete doily for this design.
After I was done with stamping, I colored with the markers, picking up a bit of color here and there. I love the subtle amounts of color.
In my next card I show you the doily without the center. There are a number of sentiments included and they all fit in the hollow of the doily.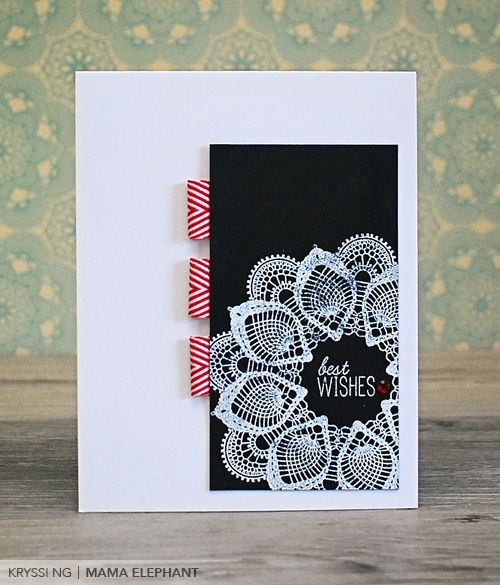 This card was really easy. Just emboss the image and sentiment in white. A few red touches and I called it complete! :) Nice and simple and the color combo red/white/black is always a classic!