I'm sure many of you have a fun Summer planned ahead. Not me, we're always so last minute with everything. Impromtu roadtrips, you know, that's how we roll around here. So, if you like to document your travels, we created this urbanesque/adventurous set to help you! As with all our sets, we try our best to keep all types of crafters in mind when possible! Wanderlust is great for creating your own journaling cards whether you do Project Life or simply scrapbook.
Wanderlust will be available for purchase on May 15th.
Wanderlust comes in a 4x6 clear acetate sheet and will retail for $15.00.
Wanderlust contains 9 stamps. Approximate measurements: Not All Those Who Wander Are Lost banner sentiment: 3-3/8" x 3/8"; Subway map 2-3/8" x 1-7/8"; Small arrow 3/4"
I get down and dirty with Distress Inks for my first card - a rarity. I first stamped the sun rays from Sunny Skies and embossed them. Then I blended a few different ink colors to get the gradient look. It looks really intense in real life.
I wanted to soften it up, so I layered a piece of vellum on top. To do so, I added a thin line of glue right under the fold on the top of the back side. I stamped the sentiment with Memento's Tuxedo black ink. When stamping on vellum paper, I found my other ink brands made it very splotchy because they were too wet or something. But you know, it could be the type of vellum you're using. There are many different kinds so it's up to you to experiment. To finish it off, I adhered two rhinestones to either side of the sentiment.
I bought the basics for a Project Life type of album some time ago. I attempted to do Becky Higgin's 12x12 version a few years ago and I think I lasted 9 days. So, I thought I'd try the Simple Stories Snap! version. So far there's been absolutely no progress haha, until now!
Using Wanderlust and some of our previously released sets, I created a little set of 3x4 cards using the color scheme red, teal, and grey. I also have found that
Geotagged
is the perfect complementing set to Wanderlust. They go hand in hand!
This first set uses Wanderlust, Sunny Skies and
Geotagged
.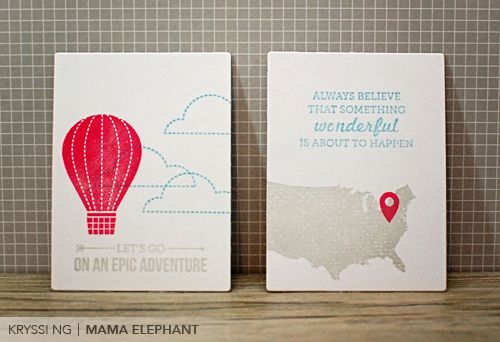 This second set uses Wanderlust and Geotagged.
I especially love the subway map. We incorporated some of the more popular NYC streets. But they are small, so they are suitable wherever you live!