Welcome back, everyone! Today kicks off my First Look projects for this month's release. I'm super excited to present to you Sunny Skies. It's a cute and fun little set that focuses on classic, simple and easy to pair images along with a few matching sentiments. We're not trying to reinvent the wheel with this concept, instead we designed it based on my own needs over the years. I wanted desperately a stitched cloud with a matching solid cloud. I wanted a simple hot air balloon, without the frills. But above all -- I so, so, soooo wanted sun rays that were easy to use! Wait till you see the reveal, me thinks you'll love Sunny Skies! ;)


Sunny Skies will be available for purchase on May 15th.
Sunny Skies comes in a 4x6 clear acetate sheet and will retail for $15.00.
Sunny Skies contains 15 stamps - 4 sentiments and 11 images. Approximate measurements: Sun rays 5-1/2" x 1-5/8"; Hot air balloon 1-5/16" x 1-11/16"; Large circle 1/2"; Small circle 3/16"
Here's my first little card using Sunny Skies, lots of layering (for me at least). I first stamped the triple sun rays (yes, I said triple :), and then I stamped the sentiment with Versafine black ink.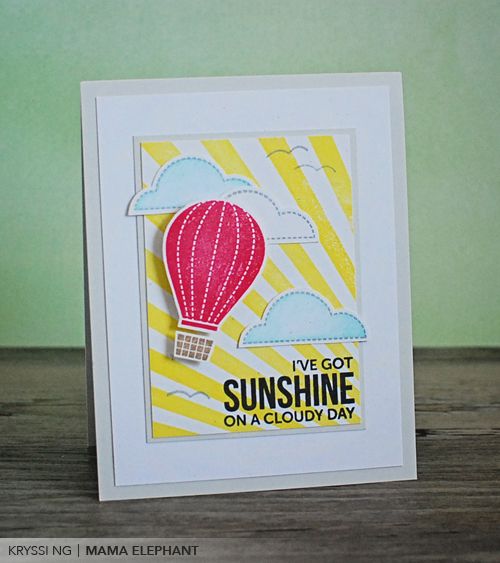 On a separate piece of cardstock, I stamped the clouds and hot air balloon. Everything was cut out by hand then layered on top of the card. To finish off, I stamped the birds.
Here's my second card. I got tired of layering so I went the super simple route. I stamped the solid clouds twice before inking them up again so you have two different tones.


The sentiment is from
Tree Friends
. Have to say I really love it and will probably use the heck out of it. I finished the card with a brad I found. Can't remember the last time I used a brad or where I hid them, but I found the little gem while I was reorganizing my space recently. Perfect amount of jazz for a simple card like this!