Today's First Look feature is none other than
Say What
! Say What's jumping point was completely inspired by Psy's hit song
Oppa Gangnam Style
. The song remains very popular here and in my household, as evident in my kids, sister's kids, friends' kids, your kids, etc. dancing to it nearly everyday!
We designed this set to be super fun with great add-on sentiments to the main one as well as little knicks and knacks perfect for layouts! I think you'll like this one a lot!
Say What will be available for purchase on February 15th.
Say What comes in a 4x6 clear acetate sheet and will retail for $15.00.
Say What contains a total of 14 stamps. The circle stamp measures 1-1/16"; Heeeyyyyy Sexy Lady! measures 2-1/8" x 1-1/8".
Onto my project... I created a neat little shaker gold with silver taking center stage today. This would make a really great birthday card because it's so festive!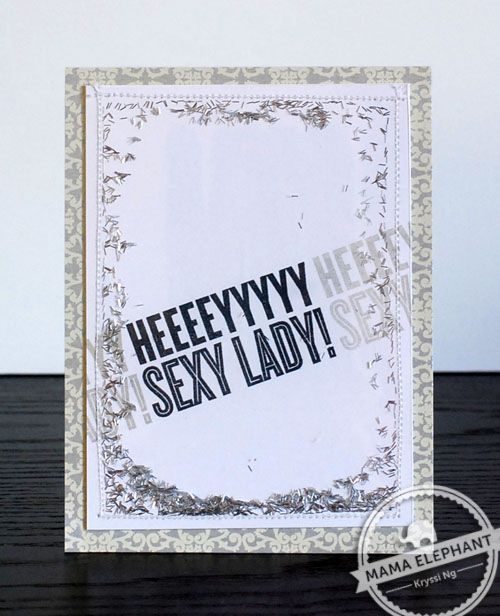 I first stamped my sentiment using black and grey ink. Then I took a piece of clear acetate and stitched a pocket with my sewing machine. Before closing the last end, throw in some of that silver confetti. Finally, when you've got the right amount of confetti (don't overdo it), sew up the last end. The last step is to layer it on top of a matching silvery grey patterned paper. I believe this one is from Hambly.
Shaker cards are so much fun to shake, shake, shake! Give it a try!