Hope you're enjoying your long holiday mid-winter break weekend! We're trying to get over a cold in our household. My kids have been pretty resilient all Winter, but when the temperatures fluctuate as much as it did it the past week (from 30-50 degrees!), someone's bound to get sick! And then the germs get passed around like a hot potato.. lovely!
Moving onto with our Highlights, today we're featuring Say What, a sentiment set that I think you'll really like if you have wayyy too many of the boring same ole, same old sentiments in your stash. Nothing wrong with those of course, but we decided to do something a little different this time. This set is perfect for greetings on cards and it's also fitting for Project Life and scrapbooking!
One set that covers all 3 base = gotta get it!
Let's see how our fab designers used this set!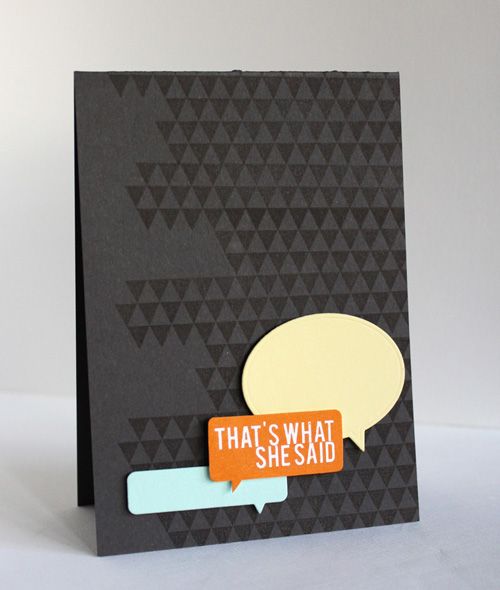 I love what Alice did here with the speech bubble stacked against each other. I love her choice of colors too! And isn't that
Trifecta
background the best thing ever?
Always Keep It Real card by
Cheiron Brandon
Cheiron created a fun one layer card with cool stripes using
Basic Borders
- another one of those stamp sets that is absolutely essentially to your stash!
No Day Like Today card by
JJ Bolton
JJ created this stunning sunshiney focal point card using the chevron stamp from
On Target
. Amazing.
Hey Sexy Lady card by
Mariana Grigsby
Mariana went bold and sexy with this card! I think it's perfect for the sentiment!!!
Hi There Stranger card by
Lea Lawson
Lea created this warm and colorful card! I love all the beautiful elements she incorporated!
Always Keep It Real card by
Pearl Lui
Pearl created her own background by using all the sentiments from this stamp set. She also pulled out the Gemini twins from
Cosmic Stars
and did some awesome ombre coloring on them. Fab!
Birthday card by
Savannah O'Gwynn
Savannah mixed and matched with sentiments from this set and
Good Times
to create this cute funky card!