Following the heels of Basic Borders, our first border building set, we're pleased to introduce Modern Borders! Chevrons, honeycombs, and scallops all in one set? We try to bring you the best in each set we design and this is no different! The solid chevron and honeycomb pattern both have a distressed pattern within - we all know how difficult it is to get 100% even ink coverage sometimes, especially with repeating pattern stamps. The added distressing makes it okay to be imperfect! And how about that complimenting chevron pattern to go with the solid? Combine them, use it alone for an impressive letterpressed look! And scallops are always in style!
Now check out what our designers did!
Thanks So Much card by
Alice Wertz
Alice kept it clean and stylish just stamping on the top of her card.
Smile card by
Cheiron Brandon
Cheiron shows you how awesome the chevrons look stacked together!
Thanks So Much card by
JJ Bolton
JJ's card looks like pure candy!! That color combo is gorgeous!
Always Keep It Real card by
Mariana Grigsby
Mariana created some pretty honeycomb flowers out of the pattern. So smart!
All You Need is Love card by
Lea Lawson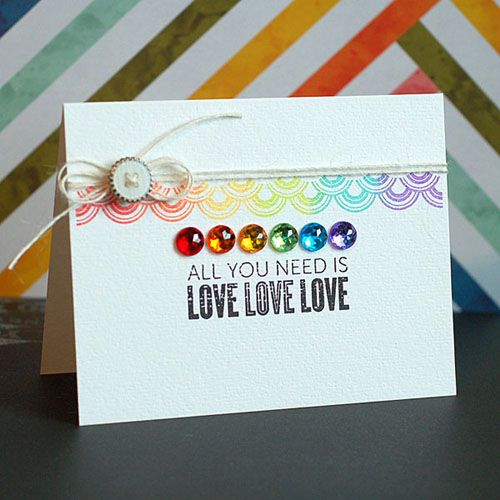 Isn't this card by Lea just drop dead gorgeous? Love the rainbow! Let's all swoon together now!
Thanks So Much card by
Pearl Lui
Pearl created a chic little card with matching envelope. So pretty with the heart popped up.