I'm gonna kick off my projects with my favorite stamp set for this release, Lovely Mums. I'm not even gonna hide my favoritism, not to say that the other sets aren't fabulous but I love flower stamps. Love. We tweaked this set so many times, I peered and poured over every line and detail for hours on end making sure every line and stroke looked natural. This set is perfect for mothers, mamas, mums, sisters, and friends. ;)


Lovely Mums will be available for purchase on March 15th.
Lovely Mums comes in a 4x6 clear acetate sheet and will retail for $15.00.
Lovely Mums contains a total of 13 stamps: 4 flower images and 9 sentiment stamps. The largest flower measures 1-5/8" in height and 2-1/8" in width. Mother measures approximate 1-1/4" wide.
My first card digs back into my fine arts roots and uses watercolor as the medium. The flowers were stamped with Versamark ink on watercolor paper and embossed with a black sparkly powder. I masked one flower over another so that it remained one piece.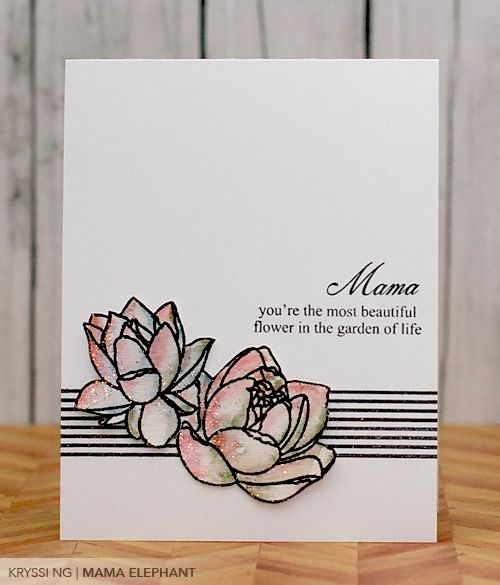 After embossing the flowers, I went to work with my watercolors and painted them. Set aside and let dry! If you've noticed I'm not much of a ribbon person, therefore I rely on border stamps like
Basic Borders
a lot to create a faux ribbon look, without the bulk. I cut the flowers out and popped them up over my card. Finally, I dabbed some glittery Stickles on some areas to give it a bit of shine.
My second card using Lovely Mums features the same sentiment and the reverse solid stamp for one of the flowers. I love the look of silhouettes, you spent all that money on your ink pads, why not put them to use?
I kept the card pretty similar, instead of stamping a faux ribbon I scored the lines in.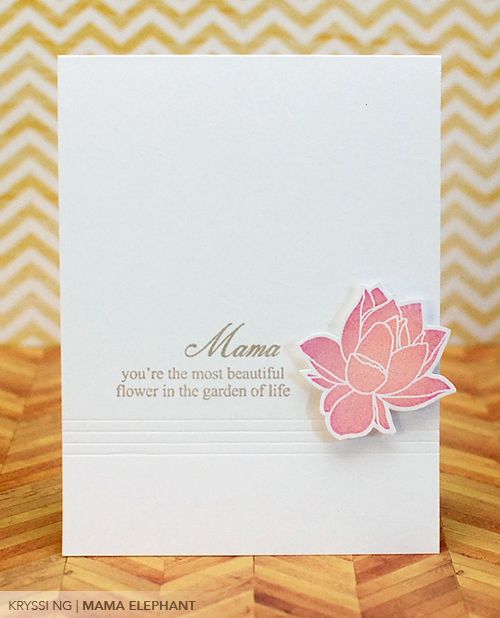 The flower was stamped first with a light pink color, then I went back and inked the edges up in a darker pink color to give it a gradient effect. Closer look, pretty huh?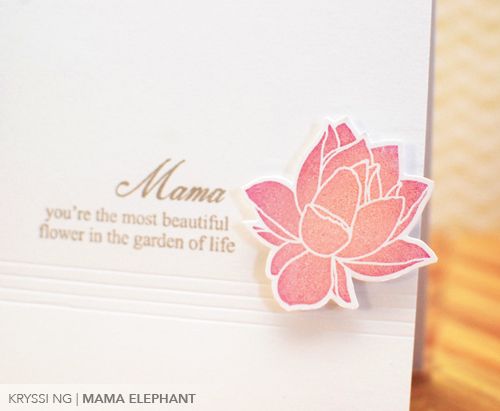 I hope you enjoyed my Lovely Mums First Look! See you tomorrow. :)