Since warmer weather is upon us, it's not too late to think of the adventure that awaits us this Summer! We initially wanted to create a supportive type of set around the hanging theme. We got a bunch of cute critters hanging around, so to say. Somehow it changed into a set that works well with travel also. We're unpredictable like that. ;) I think it's a fun, feel good set with just the right sentiments!
Up and Away will be available for purchase on June 15th.
Up and Away comes in a 4x6 clear acetate sheet and will retail for $15.00.
Approximate measurements: Balloon bunch: 2" x 2-3/8"; Monkey: 1-1/8" x 1-7/16"; Sending smiles across the miles sentiment: 1-3/4" x 1/2"
For my first card, I focused on focusing the eye to the rainbow umbrella. I think I initially left it at that but as it happens way too often, my card got dirty. I had a big speck of unwanted ink. Instead of tossing the entire card away, I colored in more "mistakes". Before I knew it, it was coming together like a color storm! I really like happy mistakes. :) I varied the sizes of the dots I colored in to mimic the look of speckled cardstock, but in color! With all the colors, this is a card brimming with happiness especially with that punny, uplifting sentiment!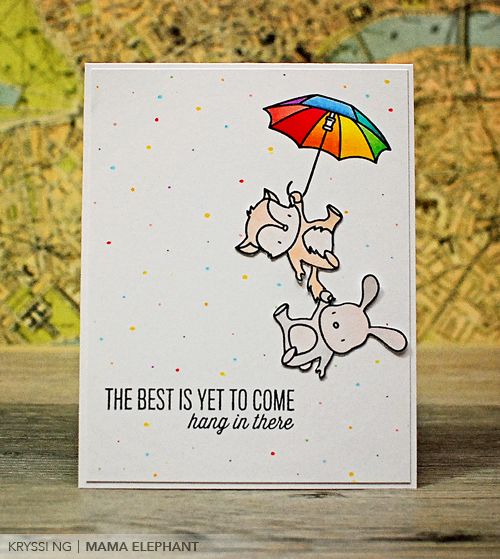 My next card, I pulled out my watercolors and did some simple masking. On a big post-it sheet, I drew out the cloud and cut it out using it as a mask on the card. With the mask in place, I sponged the sky on with Distress Inks. Looks like Mr. Fox is floating on this giant cloud!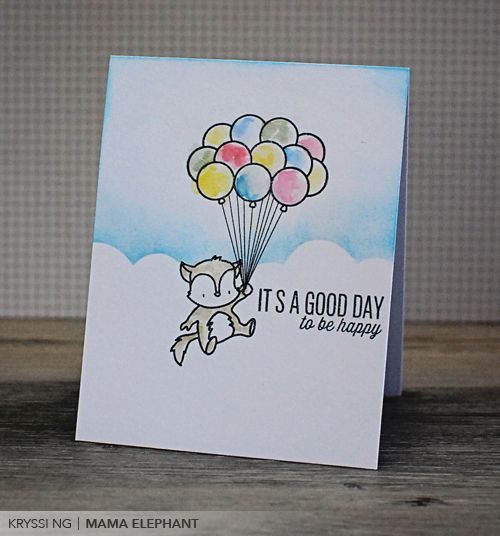 That's all, folks. See you back here tomorrow. :)