Sit back and pack your bags - or not. :) Join me as we take a little trip to the heart and soul of the city of dreams, the city of bright lights, the city that never sleeps.
New York City.
Horse drawn carriages is the quintessential tourist trap, really. But still, I stop and stare every time I past by and spot one. Part of me feels awe being so close to such a beautiful animal, the other part feels sympathy to the horses. Whatever your stand on horse drawn carriages is, you still have to admit that there is something aesthetically beautiful about seeing a magnificent horse trotting down the busy rush hour streets of NYC.
And then there's the park itself, Central Park. It's a place for us to get away from the hustle and bustle of the bright lights of the city while still being in the heart of it. I used to hang out at the park with my friends after school. It's a short bus ride from the West Side or we would walk sometimes. We'd bring our sketch pads and just lay on the meadow, bask in the sun surrounded by trees and enveloped by the towering buildings of the city. On weekends, we'd gather outside the gates of Wollman Rink waiting for the doors to open at 10AM. I think ice skating in Central Park is the ultimate New York experience. It's okay if you don't know how, just lace up and get out there!
Central Park will be available for purchase on April 15th.
Central Park comes in a 4x6 clear acetate sheet and will retail for $15.00.
Central Park contains a total of 16 stamps: 4 sentiment stamps and 12 images. Approximate measurements: City Building 4-4/5 x 1-7/10" Horse and Carriage 2-4/5" x 1-2/5" Keep on Rollin' 2-1/10" x 1/2".
My first card is super clean and simple. I'm into collage-ing my stamps these days. If I had stamped the horse and carriage to the left, I might've stamped the Keep On Rolling street sign upright to the right also. But as it goes, I never plan ahead, lol. Yup, I like to make things difficult for myself. But I thought stamping it on the side looks kind of cool too. Coming off the top edge, it looks like a little banner. How cute is that pretzel?!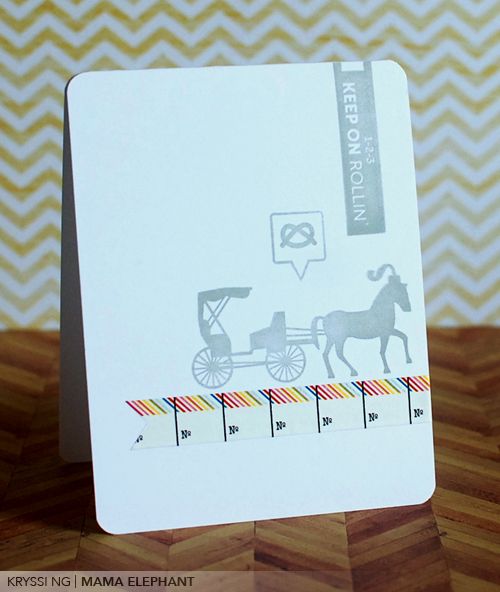 This card needs no sentiments. Its pretty much like saying "you are loved" here and here and here. I stamped the city backdrop in a soft grey ink and then inked up the horse and carriage with Black Versafine ink. Came out really nice. The white space looks like snow. New York City in the Winter is just amazing.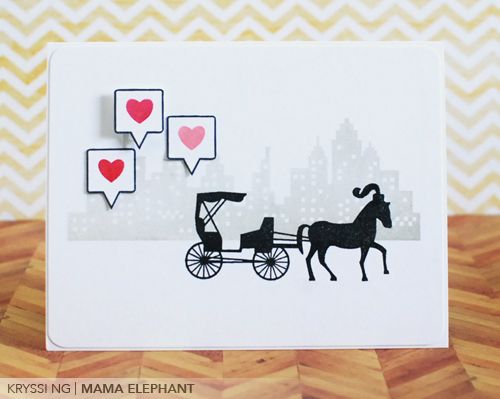 All the stamps you see are from Central Park. No mixing and matching today. :)